Green Pilot
A cloud-based energy management solution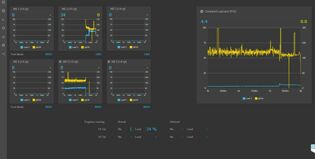 Designed to meet the rising demands for energy management solutions
SeaQ Green Pilot is a solution capable of monitoring any signal on your vessel in addition to integration with other SeaQ products.
With solutions for a broad range of vessel types and operation profiles, SeaQ Green Pilot supports you to meet the current and future energy requirements in the maritime industry.
What you get with SeaQ Green Pilot
SEEMP compliance
Emission reports (COx, SOx, NOx)
Fuel consumption reports
Quality real-time data collection on board
Automatic (or manual) operation mode
History viewer
Energy management KPIs used for setting goals, tracking progress, and achieving sustained energy savings
Fleet and sister ship comparison
Customizable reporting system
Data sharing with management information system
Improved vessel performance
Modular data-driven solution for use onboard and onshore
Can be customized to meet specific requirements
Consumption overview
Energy management infrastructure
Allows benchmarking performance

Comparing a vessel's data in different periods
Comparing data with sister vessels
Experienced System Integrators
We have a solid expertise in tailored solutions for diesel-electric, full electric, and hybrid vessels. Our core competency lies in selecting the correct components to ensure optimal operations, and to deliver quality solutions addressing our customer's needs.
Explore


SeaQ Integrated Automation System
SeaQ Integrated Automation System simplifies the daily operations onboard any vessel.

Explore

SeaQ Power Management System
Effective and economical control systems for the vessel's power generation
Explore

SeaQ Energy Storage System
Our energy storage systems is optimized to meet your vessel's operational requirements.
Explore