Shore Connection
A turnkey solution that eliminates air and noise pollution at port
SeaQ Shore Connection is carefully designed according to international standards, allowing seamless connection worldwide without a need for vessel customization.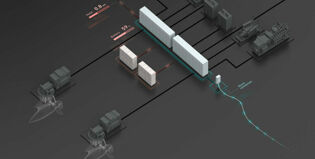 Zero emission at port
Connecting the vessel to a land-based electrical infrastructure makes it possible to shut down the engines and run solely on shore power at port. This without a need for additional supply of transformers, power electronics, or cables. Vessels using shore connection can achieve zero emission at port, reduced noise, and reduced operational strain on engines and generators. This benefit both the vessel and populated harborside areas.
What you get with SeaQ Shore Connection
A flexible solution that is compliant with international standards
Suitable for both low -and high voltage solutions
Reduces fuel consumption, operational expenses, and maintenance hours
Zero emission and reduced noise at port
Beneficial for vessels staying in quay for longer periods. Cable connection process takes between 5-20 minutes
Prepared for fully automatic control and monitoring from the vessel power management system
Safe connection/disconnection
Seamless load transfer from generator to shore power
Flexible voltage and frequency 440/690V, and 50/60Hz
Built according to IEC 80005-3
Scalable according to power demand

SeaQ Switchgear
Advance and modern switchboards specially designed for vessels in the maritime and offshore industry.
Explore

SeaQ Power Management System
An effective and economical control systems for the vessel's power generation.
Explore

System Integration
Complete electrical system packages, including energy and automation technology, diesel-electric propulsion, electrics, and HVAC systems.
Explore